IN BETWEEN
Linda Romppala
5–27 oktober 2013
Välkommen till vernissage fredag 4 oktober kl 17–20.
Vi på Galleri London är glada att få visa Linda Romppalas bilder i en helt ny utställning.
IN BEETWEEN handlar om känslan av förgänglighet och svunnen tid.
Fotografen Linda Romppala har studerat transformation, förgänglighet och känslan av nostalgi och svunnen tid i utställningen In Between. Från att vara barn till att du träder in i ett nytt stadium i livet. Det är oåterkallerligt och omöjligt att vrida klockan tillbaka. Du kan likna det vid ett sommarlov, en mellantid då mycket förändras och du kommer tillbaka som en ny människa. Linda fångade ögonblicket då hon tyckte sig se det hända. Det här är ett arbete som hon har jobbat med periodvis under en längre tid och många av barnen på bilderna är vuxna nu.
Linda Romppala är född 1979 och har studerat fotografi vid University for Creative Arts i England. Hon har tilldelats flera internationella utmärkelser bland annat en silvermedalj från Royal Photographic Society för sina bilder och är också en av Galleri Londons medlemmar.
Klara-Sofie Ludvigsen, konstnär i Bergen, Norge, skrev den här dikten efter att ha sett bilderna.
This is how I see it//silent snow dancing.
Teeth against teeth and toes against toes. Nothing ever stands still.
Everything moves, grows and constantly changes.
It makes it hard to breathe. When the air you inhale is like fermenting milk,
you start dreaming of magnifying glasses and air balloons.
If I keep my legs in water for too long, my skin changes. It wrinkles and the
nails become yellow and soft. The fox trots between cause and effect.
If I breathe slowly on snow, it melts. Mix milk and water, it becomes a misty
landscape.
If a porcelain figure is eager to meet the floor, it brakes. It is a dance.
The snow that never melts, the mist that never clears and porcelain figure that never cracks. This makes me severely uncomfortable. Which is a different type of dance.
Time and time again I have laid my ear against the dock. I have heard the
sea's monologue turning into a discussion with the air. I have become part of it and joined the motion of being.
Become a major in a choir of pulse. When I lay my ear against the wood, I
hear travelling water. "The ocean is the only thing we have in common; as it is too big to own.
Walking barefoot in the snow is sometimes necessary. While hunting my own tail, days come and go slowly and rapidly combined. Humming under water; the secret you can only tell the sea.
Too much air can choke you. You don't learn that in school.
This is how I see it.
---
Pressrelesebilderna från denna webbsida får publiceras redaktionellt utan ersättning med angivande av fotograf och i samband med utställning på Galleri London.
All annan användning och nedladdning är otillåten!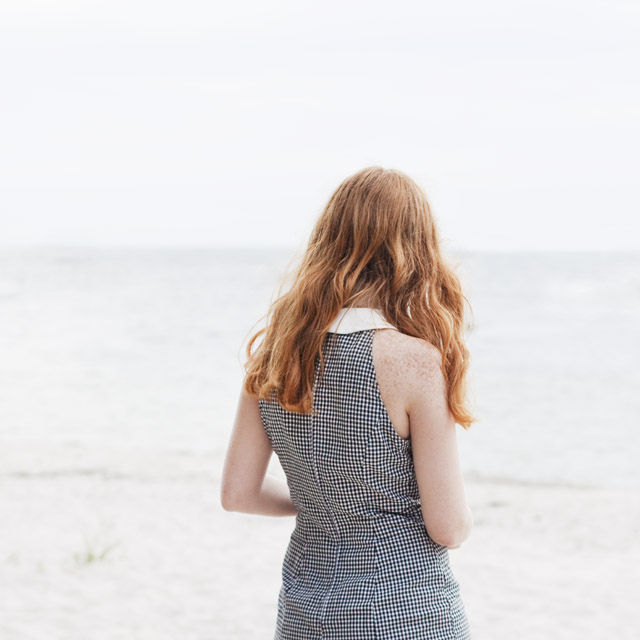 Linda Romppala – Utställning – IN BETWEEN 5/10 – 27/10 2013
---
Öppettider
Fre 16-18
Lör 12-15
Sön 12-16
samt vid förfrågan 070 714 23 59
---